---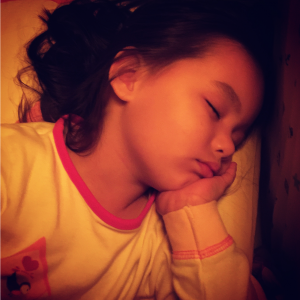 As the new year starts, my Facebook Timeline seems to be filled equally with pictures of kids in their uniforms on their first day of school, or multiple screen captures of ungodly alarm timings by the parents.  I can only imagine how starting the day can be quite a stressful affair. I do believe in setting up yourself for success with a strong morning. And cajoling a sleepy child isn't my idea of a strong start,
One of the underlying principals for me in parenting is supporting brain development. In the approach I took this morning, I took on the idea that experiences of love and affection supports a child to have a greater capacity to learn.   Scans have shown a stark difference in brain development between love and neglect.  Also that a loving touch in the morning (versus being woken up by a cane, for example) would promote confidence and being comfortable in their own skin.
Just This Morning.
I woke up in bed to find our little 4 year old lying beside me. She must have crawled into our bed in the middle of the night. I had ten minutes to snooze/laze before my alarm goes off. I decided on a bit of a cuddle. Sidling up to her, I laid her head on my shoulder and wrapped my arm around her.
She too needed to wake up (been sleeping late from the festivities) and I started rubbing her belly going "its time to wake up Edel. Its wake up time"
She was pretty sleepy (and non-responsive) so I decided to just start talking to her to engage and draw her out of sleep. Also thinking that her being in a good mood might help her in starting school.  It's been a week of holidays and staying at home with us. Just yesterday was her first day at school and she wasn't very happy going to school expressed with the classic "I want to stay home with Daddy…..". Notwithstanding that Daddy was not going to be home.
What I did
So I decided to take a sweeter, if longer approach.
Me: Today is back to school day! You're 4 years old now and its K1 time! What a big girl you are now.
E: Zzzzzzz
Me: I'm going to get up soon to go shower, but its nice to cuddle with you for a little while.
E: Zzzzzzz
Me: You know, Pappa loves you. It's such a pleasure to wake up and see you. And you know who else loves you? Mamma, Baldr. And then Mama (grandma). Ompung (grandpa). And in Norway there is Mormor and Morfar (my wife's parents)
E: [still laying still with her eyes closed] H (her cousin)
Me: Ah you're awake! who else? T?
E: [eyes still closed and laying in the same position] Ciro (their dog). And Tante A. And T's Daddy.
Me: I think he's called Uncle J.
E: and then also my cousins Ni. Ti and Auntie N. And Amang-tua (my brother)
Me: and Godpa?
E: yes. and Kooorrt (that's how she said Kurt).
Me: And all of them love you?
E: yes. and I love them too
Me: that's great
E: And what is their cat's name?
Me: Honey?
E: nooooo.
Me: oh, maybe you call her nini?
E: Yes! Nini the cat. I love her too.
Me: yes she's cute
[Finally opening her eyes and turns to me]
E: I love you too daddy. [pause] Now its time for you to shower!
Lovely way to wake up. For both of us.
What has your experience been? Would love to hear your thoughts.